Another important step before starting to write your essay is to understand the essay outline or the structure of an essay outline.
It is essential for effective writing as it gives your writing a smooth flow and enables the reader to understand your point of view easily.
Whatever the essay type, be it a narrative, persuasive, descriptive, or expository essay, it is best to follow the general five-paragraph essay structure.
This will include an introductory paragraph that will introduce the topic in the form of a thesis statement and some argument or story.
Three-body paragraphs that will defend the thesis statement or argument with supporting material such as examples or statistics.
Lastly, the introductory paragraph that concludes the whole argument by stating its significance and giving your opinions or suggestions.
Let us discuss these parts of an essay outline in detail:
Introduction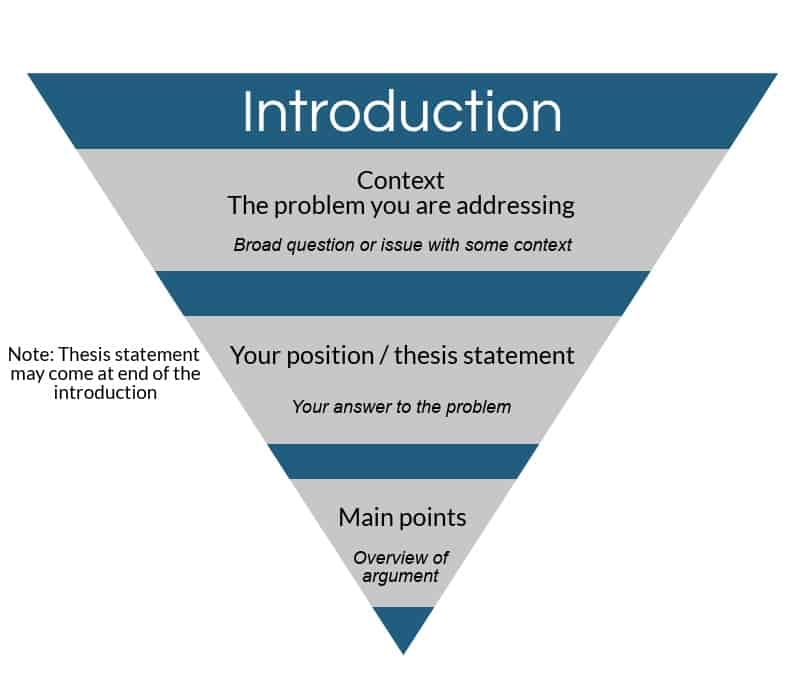 Your introduction will depend on the type of essay you are writing.
For instance, if you are writing an informative or persuasive essay you will provide your readers with some context through the background information about the topic.
This will be an overview of the topic which you will gradually narrow down to the thesis statement of your essay.
You will have to prove this thesis statement in the later paragraphs. Therefore, it should be based on some facts.
Thus your thesis statement will serve different purposes depending on your choice of essay type.
Body Paragraphs:
The same goes for the body paragraphs.
These also provide content in different styles depending upon the type of essay you are writing.
For instance, in an informative or persuasive essay, your body paragraphs will include information or facts and logic to support your thesis statement or persuade your readers.
But in an argumentative essay, body paragraphs will defend your thesis or point of view.
In short, body paragraphs serve the purpose of proving the validity of your opinion with the support of the researched outside information.
In creative writing, the body paragraphs will gradually move the story from its initial phase to the last moment going through different phases like falling action, rising action, climax, and anticlimax or denouement.
It does not clearly relate these to the thesis, but the words and symbols make these narrative levels clear.
Conclusion:
The conclusion is very crucial to any writing as it wraps up the whole argument and puts an end that satisfies the whole discussion.
In a persuasive and expository essay, it is better to restate the thesis using different words and thus finalize its validity.
It proves you to be an apt writer as you explain the overall significance of your argument and validates the value of your side of the argument.
In creative writing, the information given in the body is explored.
In other words, you explain the significance of your written piece in your conclusion without directly stating it.
This can be done by explaining the effect of the ending on certain characters. Thus readers can infer the theme portrayed by the writer.
Sample Essay Outline
Topic

Introduction
Background Information and Context;
Thesis Statement/ hook statement
3. Body Paragraph 1/2/3
Topic Sentence (Shift of idea from the previous paragraph )
Claim (the argument put forward)
Evidence (Information added from outside sources to support your point of view, i.e., claim)
Explanation ( explaining evidence to defend the claim )
Concluding Sentence ( wrapping up of Argument in Paragraph )
4. Conclusion
Rephrasing Thesis Statement
Restating Main Arguments (1,2,3)
Overall Concluding Statement (giving Significance)
You can use this template for argumentative as well as a persuasive essay as a reference.
Structure of a Personal Narrative Essay Outline
Topic
Introduction
Hook Statement (Intrigue the reader)
Set Up The Scene/ Context by giving background information.
Thesis Statement
2.Body Paragraphs
Beginning Action → Rising Action → Falling Action (Paragraph 1→ 2 → 3)
Use picaresque words
Follow Linear Progression of events by displaying the passage of time
Use transition words to ensure a smooth flow of the events
3. Conclusion
Analyze and Reflect on the action.
Explain the significance of the story's theme!
Relate the theme to the real world?
For Narrative Writing, all you need to do is keep the plot in motion and be very careful and particular in the intro and conclusion as not to lose the flow of the narrative!
Polishing Up!
Before you submit your essay, you need to polish it up and make it presentable. By following a few simple steps, you can make your essay a perfect piece.
The Break Rule:
After you finish writing your essay, take a break to refresh yourself.
Take a break for at least 24 hours and give time to refresh your brain.
Proofreading and editing should not be done right away, as writing is a mentally tiring task.
So you need to enjoy and refresh your brain to complete the last step of proofreading and editing the essay.
Proofreading and Editing:
When you take at least a 24 hours break, go for the grammar and spelling check and correct mistakes.
This includes punctuation, use of contractions as well as sentence structure. Then you can further improve your essay by improving the vocabulary and removing repetitive phrases.
The sentences you use should make logical sense and flow smoothly. The essay should be a coherent whole.
Use transition words to connect the different ideas and thoughts. Your essay should be simple, easy to read and understand.
Peer Editing:
Ask your peers to reread and edit the piece for you.
This will confirm that your paper is a well-written piece.
The more people read your essay, the more confident you will be about the quality of your work making it comprehensible.
This is the last step that completes your essay.
Need Some Help with Writing your Essay Outline?
Essay writing will still be a daunting task for you even after reading this article.
You do not need to worry about that as EssayFreelanceWriters.Com is there to willingly and readily help you with the best custom essay writing service on the web as well as with your assignment!
We have professional paper writers holding college degrees that assist our students in writing their assignments.
Whether it is a persuasive, expository, narrative, or creative writing essay, our experts very aptly know the structure and style of all custom essays and will successfully fulfill your requirements! What are you thinking? Live chat with our experts and get started today!