What is a Persuasive Essay?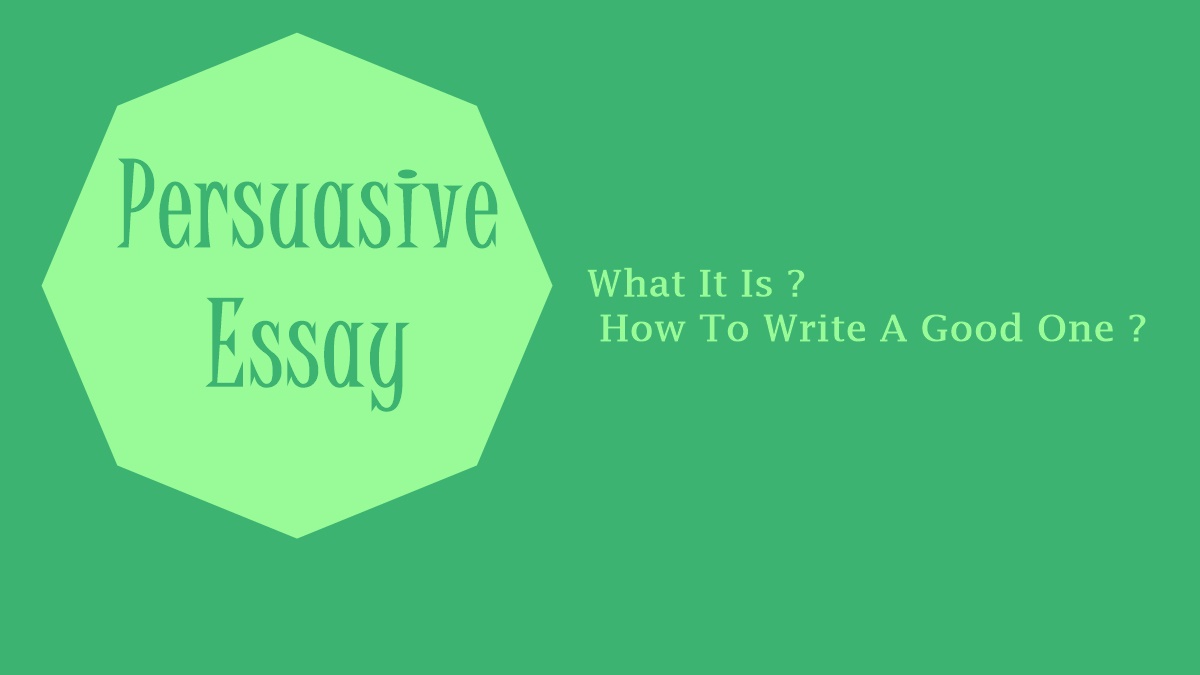 You may be required to write different academic essays, such as a persuasive essay throughout your high school and college term.
The type of essay you may be required to write depends on the purpose of writing that essay.
A large number of students do not know the proper format or structure of an essay.
You might wonder what a persuasive essay is.
As the name suggests, it means to persuade or influence someone.
Thus a persuasive paper is the one in which you bring the reader towards your point of view using your opinions and emotions supported by some facts.
As for all writings, there are certain norms and conventions, but if you want to know how to write a persuasive essay, then it's straightforward.
You can write a persuasive essay following the five-paragraph essay structure.
Such an essay aims to analyze and give detailed arguments about the given topic, so through argumentation, the students are given the practice to explain their analysis in a proper format.
This helps in developing their analytical as well as critical thinking skills.
Steps to writing a persuasive essay
Learn how to write a persuasive essay by following the five-step process.
You can also find great tips for each phase of this approach on EssayFreelanceWriters!
At EssayFreelanceWriters, we believe that learners should follow our 5 step writing strategy when crafting their own essays.
Our team has compiled some powerful persuasion techniques and strategies you'll need during every stage in your essay creation process, which are outlined below:
Prewriting: This is the most exciting phase of any writing process when students brainstorm and research their work before putting anything on paper. While planning this project, you should consider your audience and what you want them to take away from reading it. But if there's no clear message or purpose in mind, then we can help with that too! We have a team of professional writers, so we know how important thesis statements are at every stage of the game (even just starting), which means finishing strong will be easy as pie.
Drafting: When it comes to their initial composition, students can develop all of the ideas and put them in order. They need to plan for what they're going to write about so that there are no surprises when they read over their work. Audience matters, too, which is why you should always know who will be reading your essay before drafting anything at all!
Revising: Students should always review their work to make sure it has the right tone and style and appropriate content. Reorganizing paragraph structure or adding new information can help improve a draft's quality before turning it in for grading.
Editing: During the proofreading stage, writers make sure to fix any errors in grammar and mechanics. Writers also edit their work to improve the style or clarity of writing. It's helpful when you have feedback from other writers, as they might spot any errors that were missed by mistakes or because of style differences.
Publishing: In the last step of writing, it is time to share your work with others. You can do this in various ways, and thanks to computers, you even have online publishing options.
Persuasive Essay Structure
A Persuasive or Argumentative Essay structure is straightforward as it falls within the five-paragraph essay format.
Normally many students are given practice in writing persuasive essays in the five-paragraph format.
But many topics cannot be analyzed and explained in the five-paragraph format.
Normally in most high schools, students are tested on their ability to write in the five-paragraph style as 30 minutes to 1-hour.
But this standard style is not enough for students to write an in-depth analysis of the given topics in several college courses.
Students must analyze and write about longer topics and content at the college level and provide an in-depth analysis.
Therefore, the persuasive or argumentative essay has a flexible format in such a scenario, and your essay mainly depends on the topic and the question you are going to analyze.
Examples of College Persuasive Essay Topics